Seasoned Beyond Meat Meatballs in Truff Arrabbiata Sauce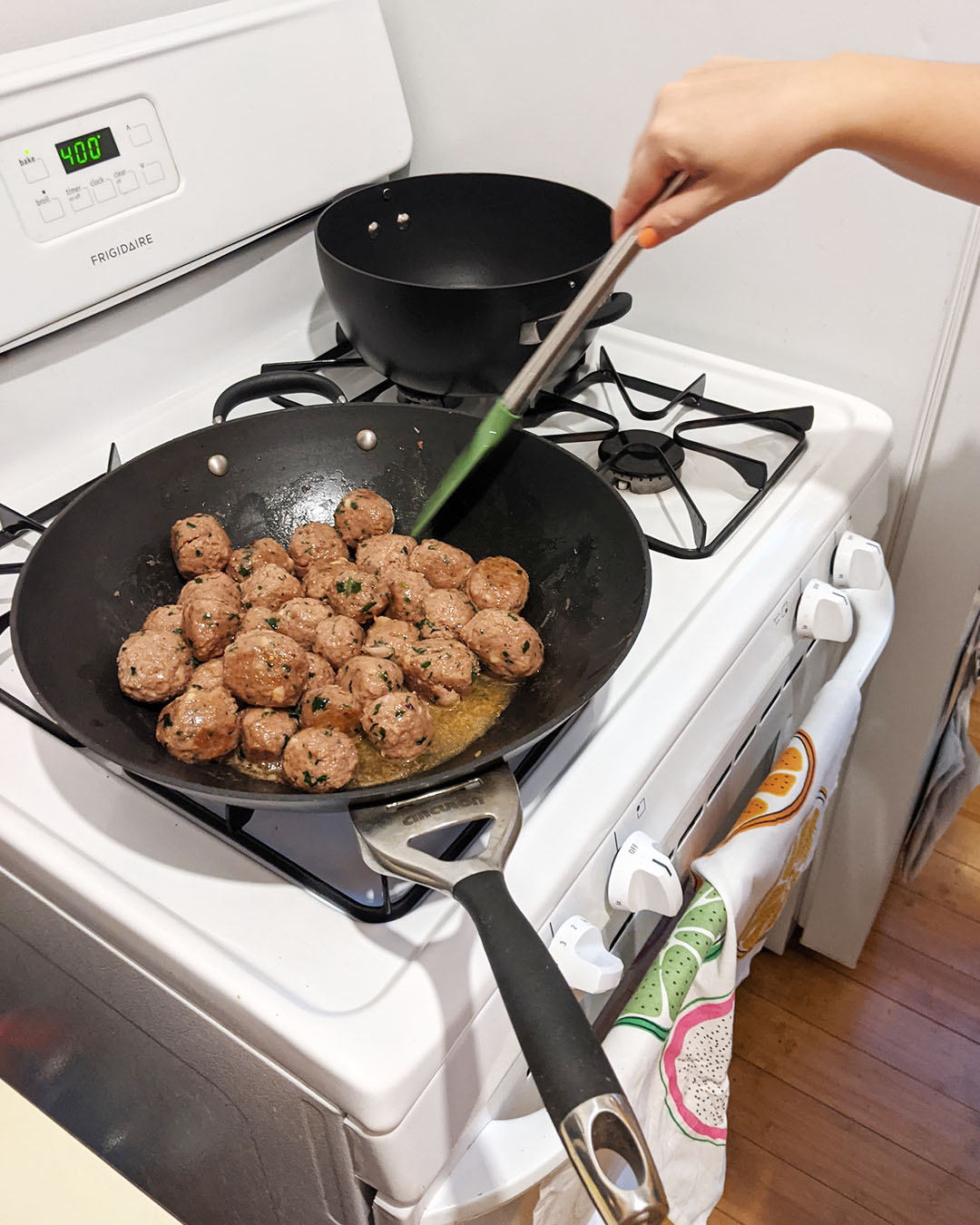 Seasoned Beyond Meatballs in Truff Arrabbiata Sauce
Made these meatballs for a recent party and they were a hit. They use a combo of this recipe from the New York Times (which is my go to) and the back of the Beyond Ground Meat packaging. I don't have pictures of the meatballs in the sauce because I was having too much fun at the bash but I guarantee they are delicious.
Hope you enjoy!
Ingredients
½

cup

panko bread crumbs

¼

cup

minced onion

¼

cup

chopped parsley leaves and tender stems

3

garlic cloves

grated or minced (tbh I use about 8 or 9)

1

tablespoon

tamari or soy sauce

1 ½

teaspoons

kosher salt

½

teaspoon

freshly ground black pepper

½

teaspoon

dried oregano

Pinch

of red-pepper flakes

optional

1 ½

pounds

plant-based vegan ground beef

such as Beyond Meat

Extra-virgin olive oil

for drizzling

3

cups

marinara sauce

homemade or store-bought (I used "Truff" Arrabbiata.)

Parmesan

optional, or use vegetarian Parmesan if you prefer, for garnish
Instructions
In a large bowl, combine bread crumbs, onion, parsley, garlic, tamari, salt, pepper, oregano and red-pepper flakes, if using, and mix well. Add plant-based beef, and blend with your hands until well mixed. Cover mixture and chill for at least an hour or up to 24 hours. (It's easiest to form the meatballs when the mixture is very cold.)

Form 28 meatballs, each about 1 1/4 inches in diameter.

Pan-sear (I get them to be browned and mostly cooked) then add to sauce.

Simmer for 30 minutes, up to 2 hours. Cook time may vary depending on equipment, always cook to an internal temperature of 165°F.
Notes
1. This recipe calls for one and a half packages of ground beyond meat and I would tend to throw the other half of that second package out. So instead, I use either 1 packet or 2 packets of meat and adjust the recipe accordingly, but frankly when I adjust I'm not exact about it. I've personally found adding more of the non-meat ingredients only makes the flavor stronger which I love. So I think using 1 packet and the above amounts of other ingredients would work absolutely fine but you might want to hold back a tiny bit on the amount of soy sauce and/or salt. But if you like less of a strong flavor you can adjust mathematically.
2. As noted above I use about 2 or 3x the amount of garlic because I'm obsessed. Not sure how much that effects the overall flavor because I've always done that since I started making these but I personally love it.
---
---