A trumpet mushrooms, onions and quinoa lunch recipe.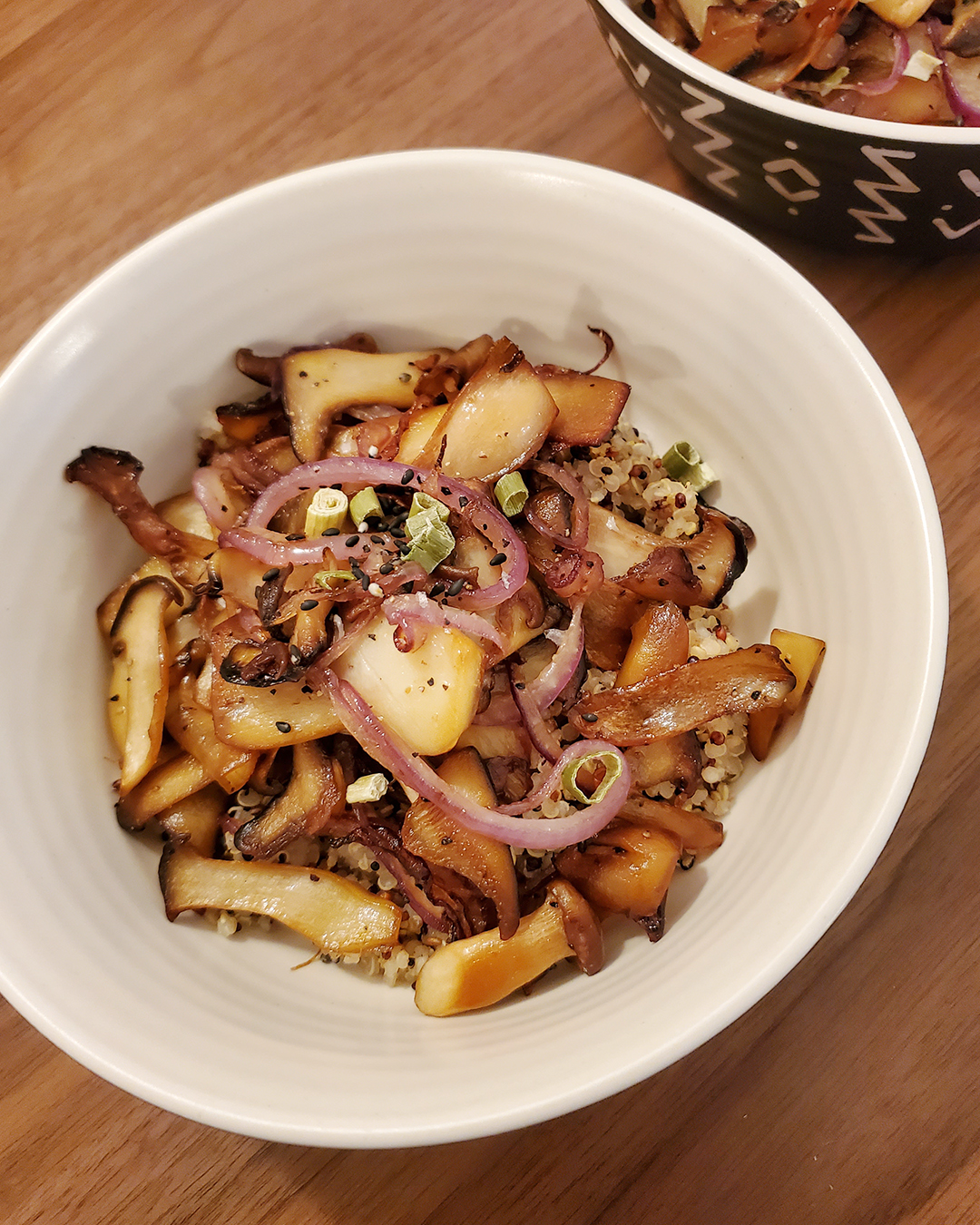 I tend to have trumpet mushrooms in the fridge sometimes so I made up this recipe. I love buying the freshest lab grown mushrooms from Smallhold. Find the recipe below!
First we slice the mushrooms really thin and sauté them. This will take a total of about 20 minutes, also adding salt and pepper. Before we start cooking these we should cook the quinoa on the side and that will also take about 20 minutes.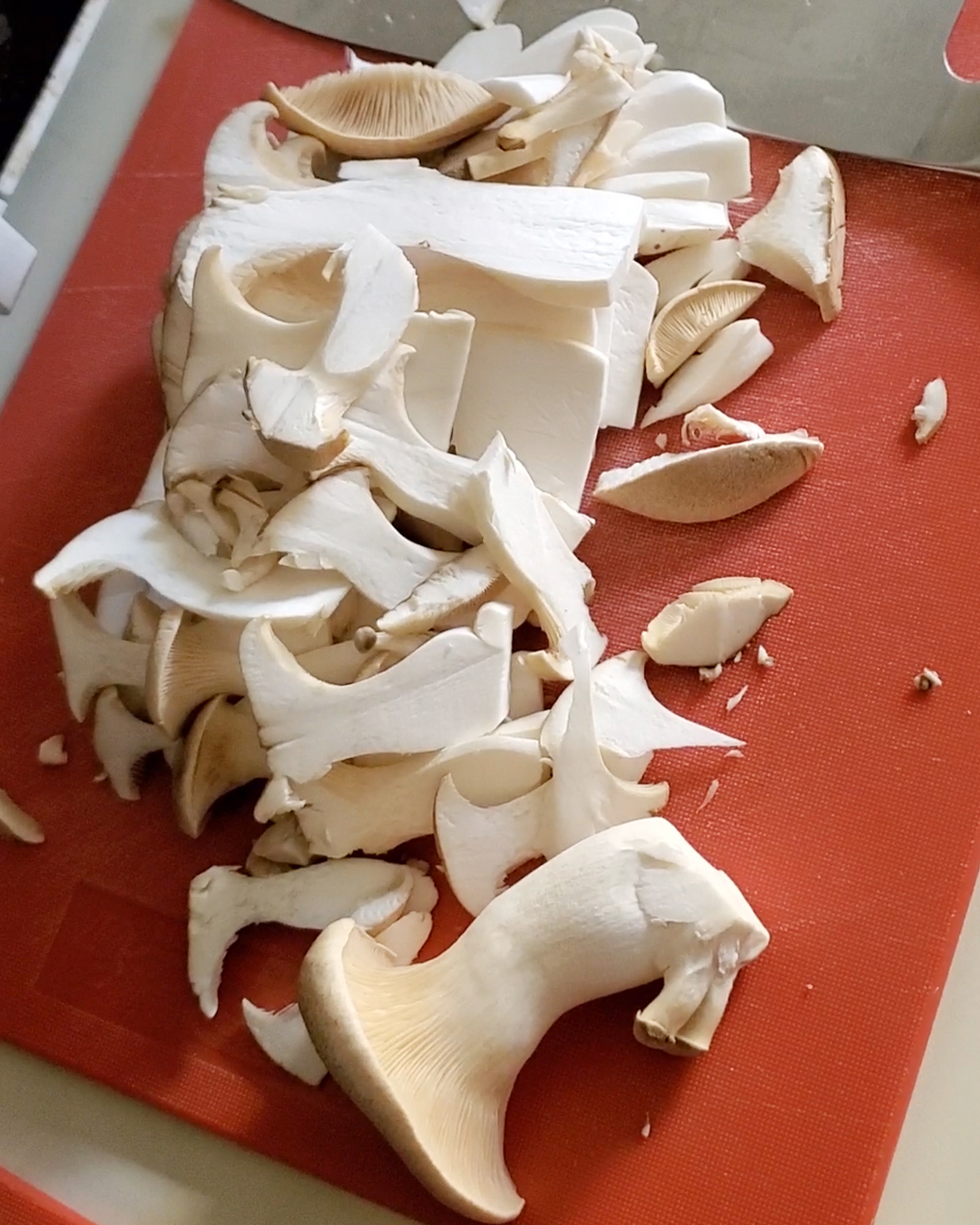 We will let these cook for a while because we want them to get soft and brown.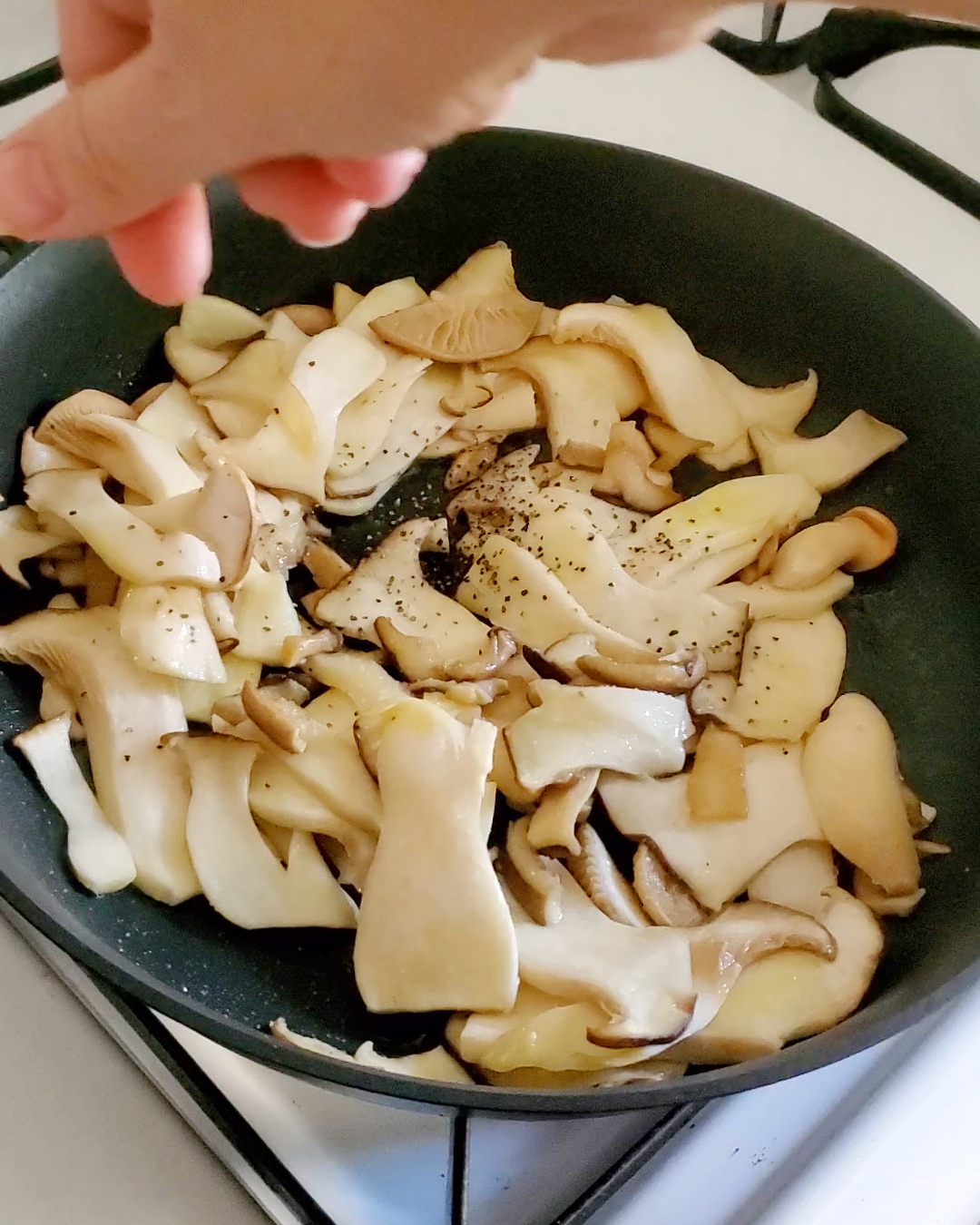 Next add the onions, we'll cook these until they get soft and we want the mushrooms to also get as browned as possible just shy of being scorched. Again you might be cooking these for about 20 minutes.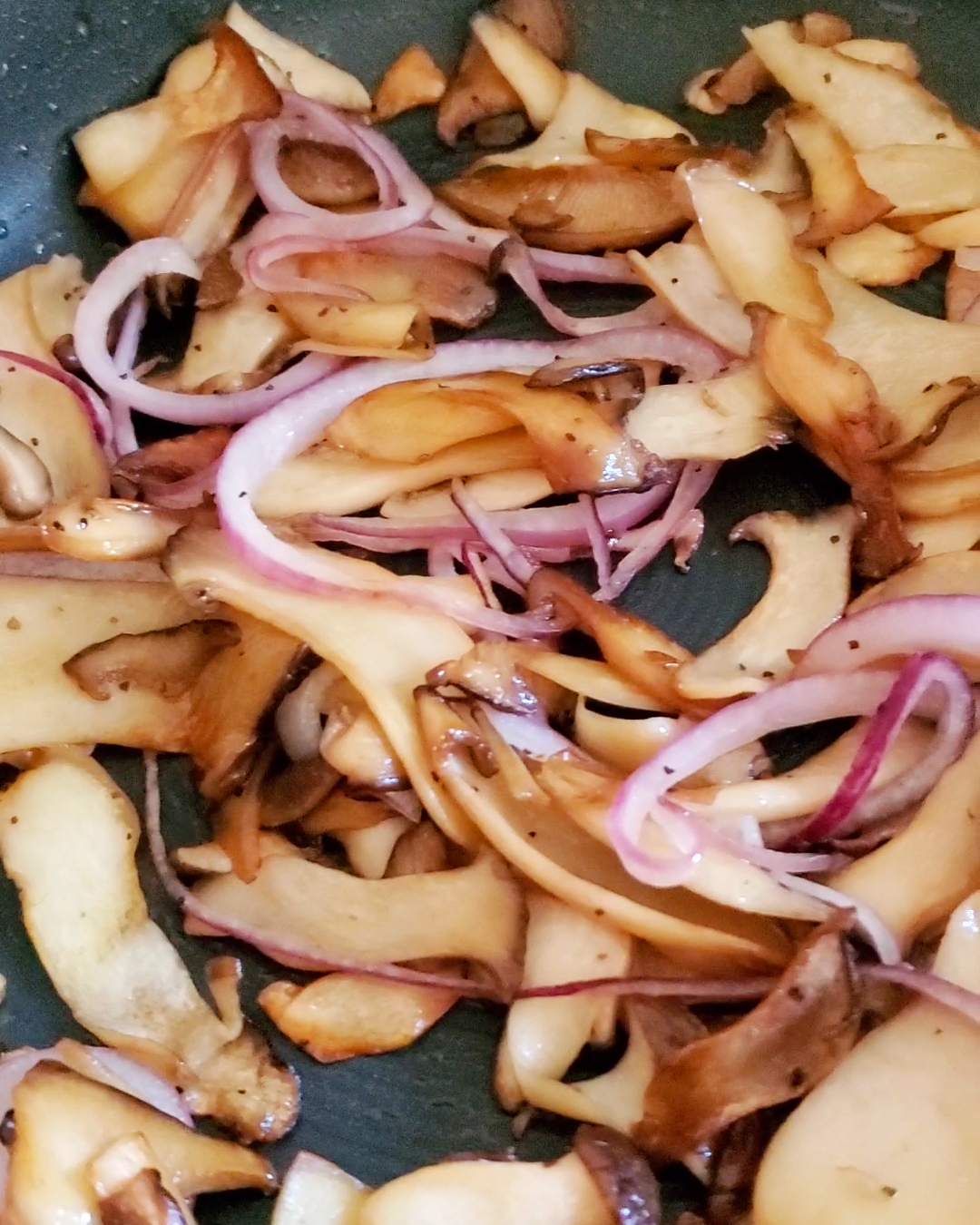 We'll serve this over quinoa and garnish with scallions and black sesame seeds.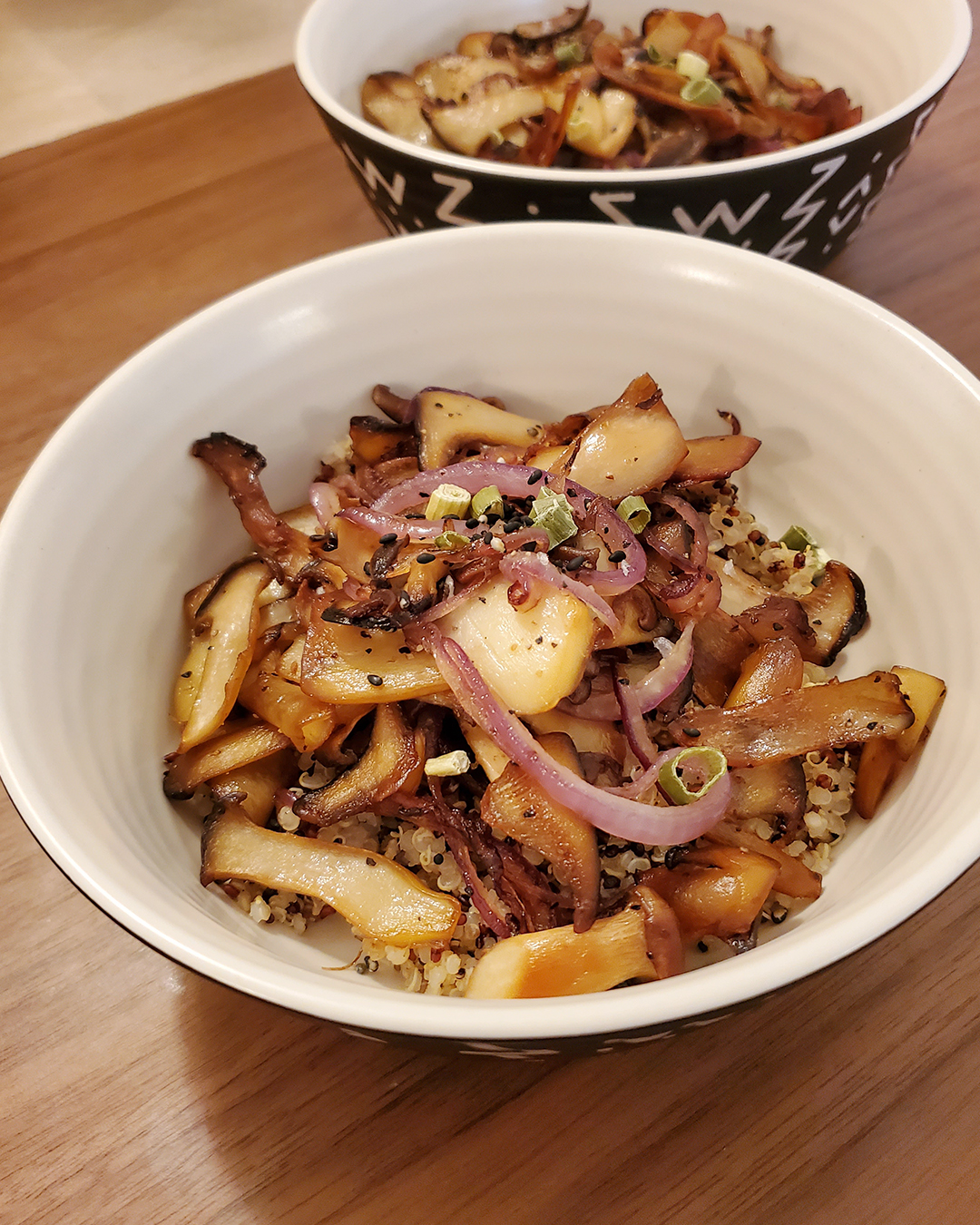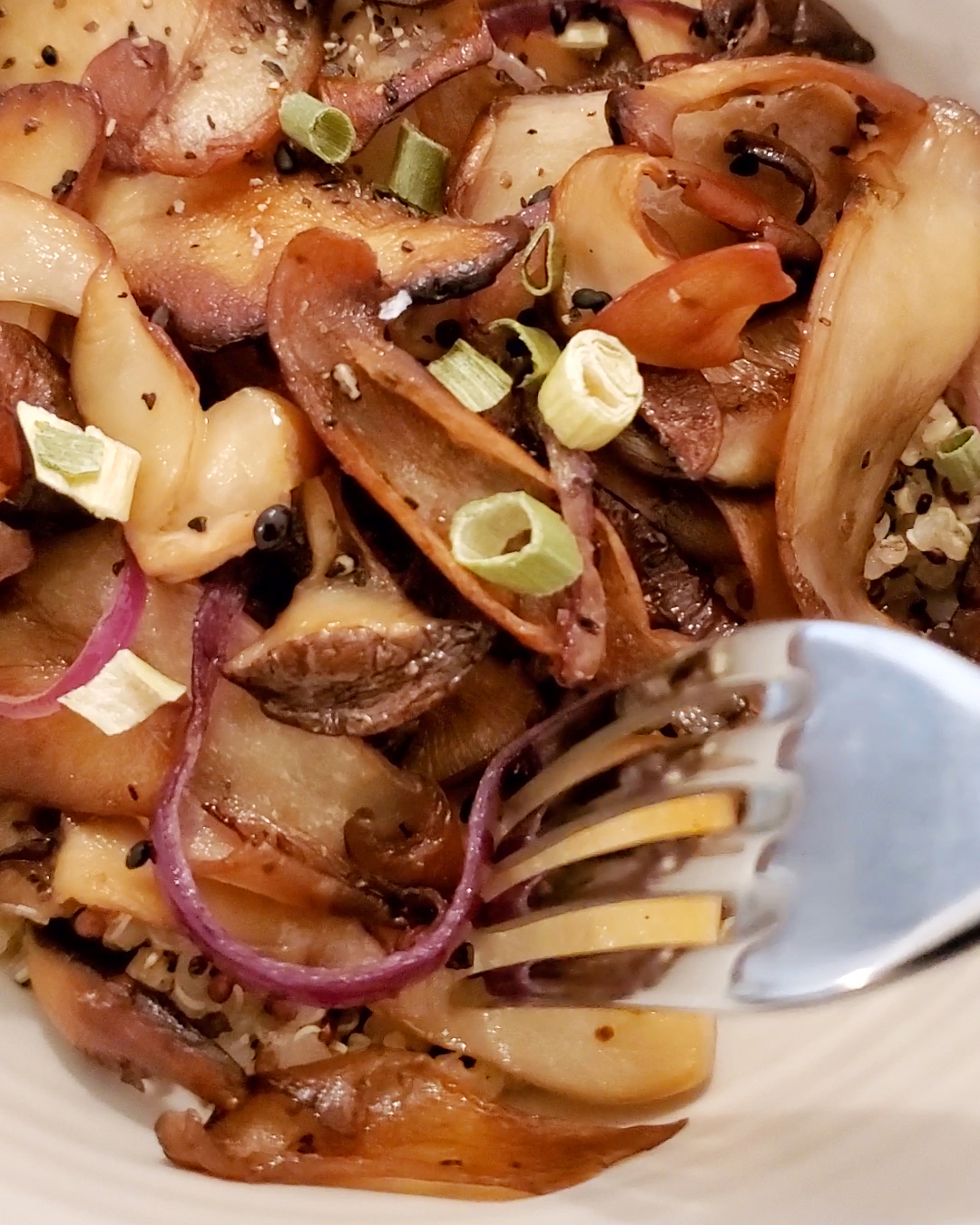 It tastes as good as it looks!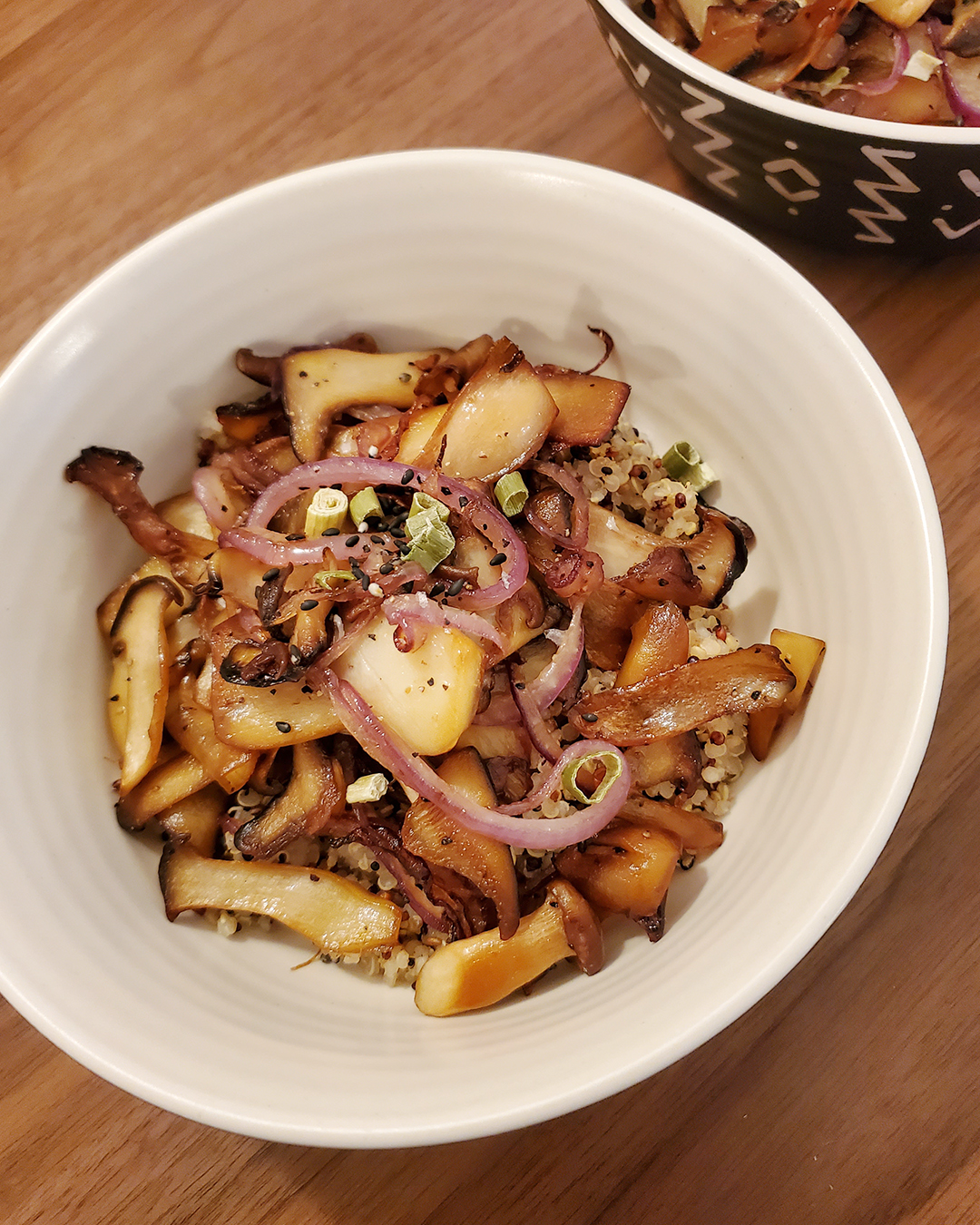 Thinly Sliced Trumpet Mushrooms and Red Onions over cooked Quinoa
Are you curious about what dishes you can make with trumpet mushrooms? I've got a really simple recipe idea for you. I had a bunch of them in my fridge so I made a pretty basic veggie forward lunch which was not only highly nutritious but also tasty.
Equipment
1 Knife

1 Large pot

1 Small Sauce Pan

1 Cutting Board
Ingredients
Ingredients:
10

oz

Trumpet Mushrooms sliced from top to bottom

as thinly as possible

1/4

Red Onion sliced in a cross section style

as thinly as possible

2

tbsp

Olive Oil

1/2

cup

of Tri-colored Quinoa

Salt, Pepper, Red Pepper Flakes to taste

Scallions and Black Sesame Seeds for garnish

optional
Instructions
Instructions:
Slice each trumpet mushroom (the long way) as thinly as possible. They will cook down a lot and we want each sliver to absorb as much oil and heat as possible. Also slice your onion (cross section wise) as thinly as possible.

Cook half a cup of quinoa according to package instructions, make sure to add salt to the boiling water (approximately 20 minutes)

While quinoa is cooking warm 1 tbsp of oil in a large pan over medium heat. Place the mushroom in the pan and add the remaining 1 tbsp of oil on top. Stir frequently until the mushrooms start turning a lighter brown color but are not seared yet (approximately 8 minutes.) Add salt and pepper and stir again.

Add the onions to the mushroom pan and cook while stirring frequently until the onions are soft and the mushrooms are seared and browned. You don't want to scorch the mushrooms but I like to eat them as cooked, crispy and browned as possible (approximately 12 more minutes.) When you are satisfied with the level your veggies have been cooked you can add more salt, pepper and red pepper flakes to taste.

Serve the mushrooms and onions over quinoa and garnish with scallions and black sesame seeds.
Notes
Hope you enjoy!!
Notes: I like to keep the seasonings basic to bring out the flavor of the mushrooms but might experiment in the future with different kinds of seasonings so feel free to do that as well.
---
---